Joe Barber Herod Farm Weds 17th April 4.8k/335m
I'd not done this one before but was quite familiar with the hilly bits. So thought it'd be good for a bit of a last minute attempt to inject a bit of speed.
The top edge of the map just finishes south of Glossop just so you can locate the general area.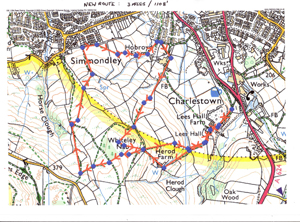 I think the fast ones were on for a crack at the race record as they'd started to mill about quite a long way up the track from the start line. Called to order by the RO. At least there was no doubt as to which direction we'd be running this week unlike at Coledale when all of us we're facing the wrong way!
Unfortunately the gate was open at Herod Farm, as I was hoping for a bit of a breather whilst waiting for the queue to climb the stile, next to last at this point.
One runner passed on the track through the heather on the drop down to Simmondley, a further 4 passed on the climb back up to Whitely Nab and 2 more on the run in to the finish. So expecting to see 8 names behind mine on the results when they're published.
Finish time for me was about 39mins (certainly under 40) so quite pleased with that, if I'd have run last year with that time I would have had 12 behind me. Be interesting to see how the % stats work out for this year with position in race and time compared to winner.
(for those not registered with facebook - think 'snow, iceaxe, crampons' and it'll give you a pretty good picture in your mind of the conditions).
TF